The UK's World Drone Racing Champion, Luke Bannister, has helped create an astonishing film of London's award-winning Kidspace adventure play centre providing a unique day-into-night view inside the venue using an FPV (First Person View) drone video technique.
Filmed with a Drone, Bannister expertly pilots the machine from outside into the venue to take in the sights of kids enjoying all the features of the play space, one of the largest of its kind in the UK.
The video takes the viewer on a virtual visit to the adventure space, starting outside and flying through the doors into the centre and up the stairs. The Drone's camera is expertly guided by the pilot around all of the centre's activities while the young visitors and their carers have fun.
The idea came about when Luke's race team XBlades were invited to work with Kidspace to open the first XBlades Drone Academy, offering the opportunity for kids to learn how to fly a drone and enjoy Drone-themed parties within the centre.
Speaking about the initiative, Kidspace owner Richard Farley said: "We were excited at the opportunity to partner with XBlades to open our very own drone themed activity. We are extremely proud to be able to give our kids the opportunity to learn this new STEM based activity that they might not otherwise have a chance to do."
Taking up the conversation, XBlades founder and Team Manager, Richard De Aragues said: "We've been looking for a venue with the space to start a drone academy for youngsters and Kidspace is just perfect. While we've been working through the logistics, we came up with the idea of shooting the video.
We asked Luke, one of our XBlades team (who became World Drone Prix Racing Champion when he was just 15), to get on board and using his skills has helped create this incredible viewpoint of Kidspace! We hope it will inspire more young people to get excited about this growing sport and come down to enjoy Kidspace and have a go at piloting a drone!"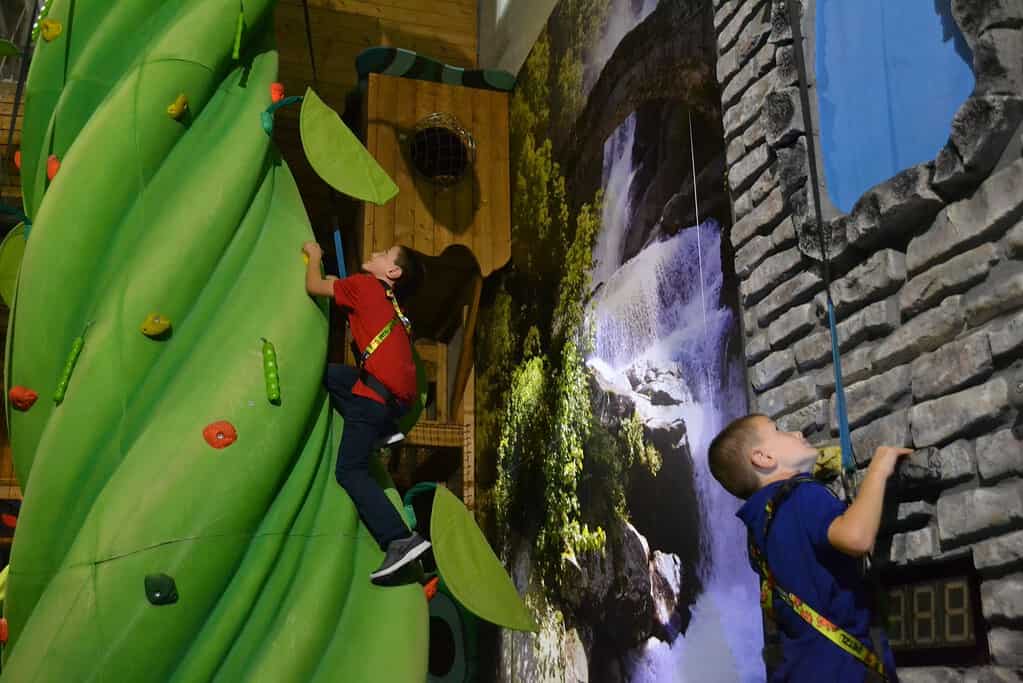 Kidspace Adventures is an award-winning indoor adventure playground with centres in Croydon and Romford, formed in 2005 by two long-term friends and fathers – Richard Farley and Nick de Candole who became frustrated at the absence of engaging play for young kids. The centres host a variety of activities including go karts, climbing walls, interactive sand play, laser tag as well as a fully licensed restaurant and a variety of themed birthday parties for children. Kidspace Croydon will be the first indoor activity centre to bring drone racing as part of its offer to kids.
FPV Drone Oneshots have recently surged in popularity; where XBlades Media House, an award-winning, cinematic FPV Agency & Production Hub specialising in Aerial Drone Cinematography, pushed the technique was to craft a lighting change from Day to Night during the shot.
Drone racing is a fast-growing sport that is likened to playing Quidditch at Hogwarts! Once the controls of a basic drone have been mastered, Pilots progress to flying a Quadcopter wearing 'First Person View' goggles. The camera on the quad sends real-time images of its high-speed trajectory to the pilot – which gives the sensation that you are flying.
About Kidspace Adventures:
Kidspace Croydon is a massive 30,000 sq ft indoor play centre. It is based at The Colonnades, 619 Purley Way, Croydon, CR0 4RQ.
Tel: 020 8686 0040. Website www.kidspaceadventures.com
It has free parking outside for up to 4 hours.